When it comes to running a successful business, most people think of start-up costs, gaining new customers, and advertising. However, many companies have learned a hard lesson in a recession or pandemic, such as COVID-19. Even businesses with an easy and profitable start-up found that resilience is the key in the case of an unprecedented market. Planning a successful "Go-To-Market" strategy is a fantastic way to mitigate risks, while increasing the odds for success. Your GTM needs to include your entire existing and future digital ecosystem.
When business resilience comes to mind, we tend to think of a strong customer/client base, reliable manufacturing partners, and an excellent product, but what happens when that isn't enough? These things are not guaranteed during unprecedented times, and even if they maintain reliability, when it comes to a shutdown, recession, pandemic, and harsh business expectations like we see now, these things may not be able to keep a business afloat.
We have seen that making a huge difference is a well planned digital ecosystem, which in the world, as we are experiencing it now, is sometimes the difference between a successful business and cutting your losses.
What Is a Digital Ecosystem?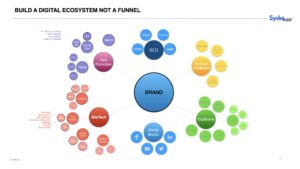 A digital ecosystem is an interconnected network of everything from customers, suppliers, trading partners, and much more; this includes their extensive, individual technologies. Your website becomes the platform for your brand, and all channels point back to it. Social media, traditional, premium publishers, paid channels, and video carry your value proposition, products and services. Imagine all the points you need to run your business, then integrate it digitally; it takes far more than an online selling platform.
By building this network, you integrate new and old technologies and business experience and surround it with a digital platform to grow and maintain your business and its relationships continually.
This does not necessarily mean you have to transform your business into a complete online or remote position, but it could never hurt to have a plan to do so. Building a digital ecosystem is mostly surrounding yourself with the right connections to provide a seamless, modern solution to your business.
How Does A Digital Ecosystem Increase Business Efficiency?
Digital ecosystems increase value and the speed of adoption of new technologies. They can also improve workflow efficiency, discover measurable cost savings, increase productivity, and simplify distribution. By bringing in technologies and ecosystems from other industries, you're ensuring the strength of your ecosystem. By collaborating, you are also expanding your customer base; by bringing in additional partners, your geographic reach extends. This expansion includes possibly eliminating language and cultural barriers.
5 Ways to Build a Successful Digital Ecosystem
1. Select and manage multiple collaborations - When building your ecosystem, it's not a bad idea to think outside of the box. Yes, some collaborations seem apparent, but the most successful digital ecosystems have around 40 partners.
2. Expand your partnerships to different geographic locations - As said above, different collaborations can bring in different positive outcomes. You are expanding your customer base to allow different cultures, languages, and geographic locations, eliminating cultural barriers and eliminating payment and conversion complications. The most successful digital ecosystems cover ten or more countries.
3. A steady, GTM Planned Ecosystem is more successful than a fast building ecosystem - As with many things in life and the business world, when planning an ecosystem, slow and steady wins the race. When jumping into building an ecosystem as fast as possible, you also risk making the wrong ecosystem or choosing the wrong path. By building steadily, you have the chance of joining already formed ecosystems also, meaning you not only get to utilize your new partnership, but you are using your partnerships ecosystem also.
4. Create a Strong Client base - Having a significant client / customer base not only attracts partners but gives you the best position to attract partners with the right skills and funding. If your customers are happy and purchasing your product, then other contributors will see that integration will benefit them and more than likely build their ecosystem.
5. Stand out from your competitors - If your technologies, processes and integrations stand out from your competitors, you are more likely to attract stronger partnerships. There are various things like a trusted brand, low process, or excellent customer service ratings that will also allow you to stand out from the crowd. Bringing a different approach or a unique service product to the table opens an opportunity for you and your partners.
Building an ecosystem is a choice, not a necessity, but we have seen in the event of a pandemic like the current one, building a digital ecosystem will allow you to mold to the current conditions. In some situations, these digital ecosystems have been so thriving for companies that they are planning to remain digital for the most part, even after things return to normal.
Building your ecosystem is about attention to detail and building your own business. The more successful and stable you are, the more you have to offer to a partnership. This also applies to you when searching for a partnership. Building a thriving ecosystem that is stable in this ever-changing environment won't include accepting every partnership your run across. Just as we stated in the recommendation of Building a Strong Userbase, searching for the right skills and funding is essential, as well as finding a stable partner. You should be able to complement your partner's products and services just as they should yours. Mutually beneficial partnerships are always the goal, so preparing your organization for digital collaboration is just as important as finding the right partners.
Get Started On Understanding Your Digital Ecosystem
Companies that have successfully built and maintained thriving digital ecosystems have done well during this pandemic, where many other companies lost out. While it is not easy to build a strong and stable digital ecosystem for many companies, it has made all the difference during this time. Even as customers, we look for dependability and simplicity when we shop or purchase services. As a company, integration and effective partnering not only draw in more customers but allow you the opportunity to be more flexible in this ever-changing world.
A digital ecosystem is not only useful in an unprecedented situation either, integration and collaboration will not only allow companies to keep up with the ever-changing technology but will help iterate ideas and create new products and solutions. Facebook, Amazon, Apple, and so many more large companies would not be where they are today or be able to offer what they do without integration and collaboration.